About The Pet Spaw & Lounge
We want to provide personalized services that never make you feel like just a number.
The Pet Spaw and Lounge's mission is to provide excellent animal care in a pet friendly atmosphere while ensuring our customers, both pet and owner receive the highest quality care in a clean and safe environment. As an independently Canadian owned and operated business, we will provide your cherished pet with a clean, warm and loving environment.
Our staff is very caring and attentive towards each pet's welfare from the beginning to the end of their grooming experience. Each and every pet is pampurred from nose to tail in our small yet personable salon. An essential part of providing grooming services is building a personal relationship with clients as well as their four legged family members therefore, our mission is to provide personalized services that never make you feel like just a number.
Contact Us Today!
Jessica Rodrigues
Owner/Operator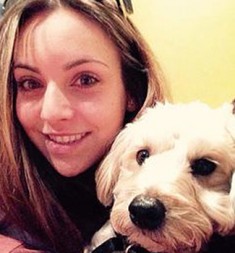 Our owner, Jessica, has a true understanding of your furry family members. Along with grooming, Jessica also has experience in the veterinary field and has worked with cats and dogs for over eighteen years. Working in both a veterinary hospital and alongside a groomer, she decided she wanted to focus her attention on making your companions look their best. As a result, she decided to open her own grooming business to provide a comfortable, high quality and professional grooming Spaw. Through the help of her family and friends her dream was made into reality and The Pet Spaw & Lounge came to life!
Jessica, naturally, is surrounded by an abundance of furry friends herself. Camaro is her (10-year-old) schnoodle, he is feisty but the cuddliest companion. Bane, (4-year-old) Lab rottweiler bullmastiff mix, is her energetic, goofy and lovable boy! It doesn't end there, she has three cats that keep her laughing, Ivy (6 years old) a domestic long haired, Tigger (2 years old) a domestic short haired and Nugget (3 months) another domestic short haired. She defiantly has her hands full!!
Education has always been important and therefore she completed her university degree at Guelph University where she achieved honours in Animal Biology. She also took Human Resource courses, at McMaster University, to give her a more well-rounded perspective and help her run her own business. Continuing education is just as important and Jessica has participated in various continuing educational events such as Groomfest-Niagara, Canada and PIJAC- Toronto, Canada. She will continue to keep up to date on the most professional products and services to present to her clients. She is also a member of The Ontario Dog Groomers Association. Additionally, she is insured using PROfur insurance for Professionals. More importantly, she is Pet First Aid trained so rest assured your pets are in good hands.
Always smiling, Jessica is a kind and friendly person that will treat your pet as one of her own!!
I just want to tell you ladies you are the best I would recommend you to everyone I know with a dog. It took a while to find you experts, but you really are the best. We moved to Fonthill last April from Mississauga and it is worth the drive.

– Bruce and Diane H. Fonthill,Ontario

They are the best groomers! I have a 10 year old standard poodle who gets oodles of compliments as the groomer is a brilliant artist!

– Mary Lou J.

I have known Sandra for years & she has professionally groomed my Gunnar for most of his 14 years. She is kind, considerate, professional & most of all has shown utmost care & love for my dog. Like most owners, our pets are a huge part of our lives, we should all have a Sandra for them.

– Joanne L.

You guys have a great business and give amazing service. I would, and will, recommend you to all my friends and family. Your staff is professional and courteous. I will be coming here for a long time. Great people and reasonable pricing. Great service with a smile!

– Mikey C.

My dog Sam is happy and looks great when he comes home from the Pet Spaw & Lounge. Jessica and Sandra do a great job and I am happy to recommend them.

– Sandra S.

Jessica and the team are fantastic! Ruby will definitely be visiting again soon.

– Amanda L.

I have had the pleasure of working with both Jessica and Sandra over the years. They are great compassionate people who have the best interest of their clients at heart and are completely trustworthy and honest. I highly recommend them for anyone looking for a good grooming facility.

– Dr. K Hill

Everyone at the Pet Spaw and Lounge are professional, patient and do an excellent job. I would recommend them highly!

– Jane C.
Other Really Great Stuff
Helping you find exactly what you're looking for
The Pet Spaw and Lounge creates a comfortable, high quality and professional grooming experience.

View Our Services

Check out what we've been up to, and what great events we've been apart of!

View Events

View our gallery full of our furry friends and photographs taken throughout our location!

View Our Gallery